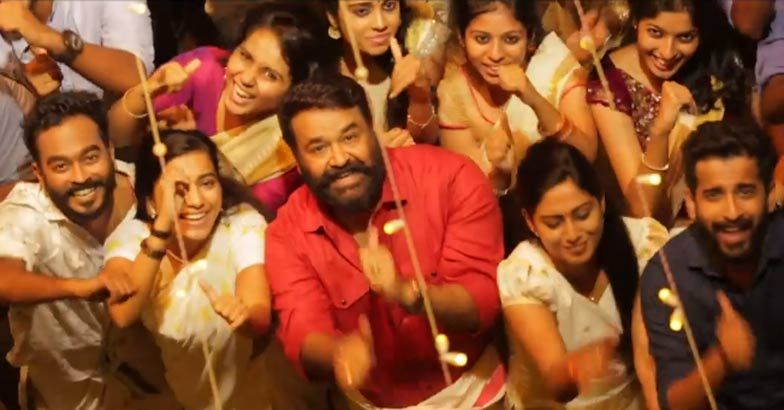 The 'Jimikki Kammal' fever has subsided down slightly now. It is a rare scenario where a Malayalam song becoming viral all over the nation. A more astonishing fact is that people came up with a number of versions of their own over the internet and surprisingly we are loving all of them. 'What might be the reason for this fever?' This was our topic for discussion during our tea break yesterday. I have just integrated our findings and thoughts in this simple article. If you would like to know what we found out please read on…
The unavoidable fact is that whenever a Mohanlal movie comes up fans expect something new and different from him. Mohanlal always tries to keep up this expectation. So initially when the song was released it was tagged as a Mohanlal song and this triggered the song to come to its track. Later people started humming this song as it was very easy and simple.
The first 2 words 'Jimmiki Kammal' has been in use in Shinkari melam'( ethnic drum ensemble) for a long time. The familiarity with these words made the song more hearty and agreeable. There are no complicated elements of music in it and that made it more likable and approachable. You don't have to be at least a bathroom singer to hum this song. The song is so flexible.
On top of that, the song was released during Onam time and had a celebration mood which increased its demand. 2015 Onam was conquered by Premam. Even in 2016, Premam effect was still in the air but in 2017 Jimmiki Kammal took its place. So Jimmiki Kammal emerged as an Onam celebration song.
Song covers also played a major role in spreading this song. Nowadays it's a trend to make cover songs and spread it in social media. A variety of song covers were made for 'Jimmiki Kammal' and surprisingly people loved all of them. This encouraged many to make new versions of their own. Finally, it felt like the entire South was in 'Jimmiki Kammal' fever.
When the South was obsessed with 'Jimmiki Kammal' North wanted to know what the 'chaos' is all about. Later North also fell under the spell of 'Jimmiki Kammal' and a number of covers and a translated version in Gujarati also came up.
On top of all these, a Brahmanda video came up from the 'Velipadinte Pusthakam' team which we can count as a 'kalashakottu' video. In this video, it was seen Mohanlal dancing vibrantly with a group of youngsters.
If you have any other findings or reasons to add up on this topic please comment it below.