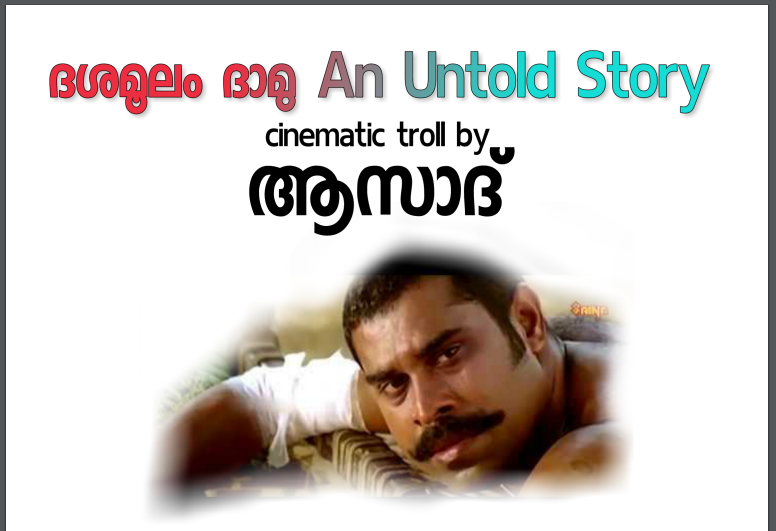 'Dhashamoolam Dhamu' is the latest Malayalam troll sensation. Trolls and trollers are quite famous in social media platforms. Dhamu has mercilessly thrown out Manavalan and Ramanan and has crowned as the 'King of trolls'. It was Manavalan and Ramanan reigning the Troll world from the very beginning but recently Dhamu overthrew them and put an end to their era. It's really impossible to find a day passing without a Dhamu post on every single troll groups and pages.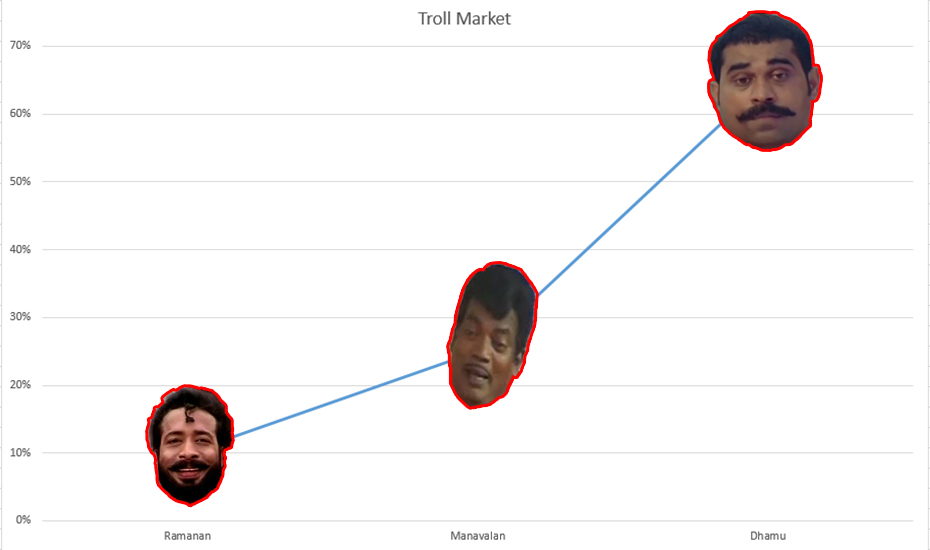 Dasamoolam Dhamu is actually a character done by Suraj Venjaramoodu in the movie 'Chattambinaadu'. This character became a sensation among trollers suddenly and has been used crazily in all the posts these days. For a character to become viral and trending does not need any particular reason and Dasamoolam is insanely trending.
But the most interesting thing is a viral post that surfaced recently which beautifully unfolds the untold story of Dhashamoolam Dhamu. The troll is titled as 'The flashback of Dhashamoolam Dhamu'.
Bheem Singh, a Mumbai based Malayali goon comes back and settles in Kerala. He has 3 kids- the eldest is Achunthan commonly called Achu, elder one is Ramadasan popularly known as Dasan and the youngest is Dhamodaran called as Dhamu. Their mother passes away while giving birth to Dhamu. Later their father dies in a suspicious circumstance and with that incident, the brothers part their ways.
Achu goes to his mom's place, Keeleri and gains the name Keeleri Achu. Ramadasan goes to his father's home, hence gets the name Kaarakootil Dasan. But Dhamu goes to Mumbai and lives with his dad's friends. His only intention was to find who killed his father. Later he comes to know that his dad's own gang member Kaattapally Nagendran killed his father. So he goes to Nagendran's hometown Chattambinaadu and becomes his gang member with an intention to payback for his dad's death. Single-handedly he can't deal with Nagendran so he trickly brings Mallayya who has enmity with him. In the end, Mallayya reveals Nagendran's dirty deeds and the village people turns against him. That's when Dhamu speaks out his intention and who his father was. But he says he won't kill him as his father wanted Dhamu to lead a peaceful life and to work hard. The story ends where it is shown Dhamu pulling a cart full of loads.
To read the entire story click here:
The characters used in this story is adapted from different movies but the way he has narrated the story is quite interesting. The story is posted on Facebook from an account named Asad.
See the original Facebook post here: