Parvez Elahi is the man who travelled 22 Indian states and 1000km on foot in 60 days. Trips and travel stories shared on social media these days are really exciting, different and cool. Thanks to social media that we are hearing such exciting stories but still there are unheard heroic stories out there. Indian youth seems to be obsessed with trips, travels, hitchhiking and other cool stuff.
When they belong to a country whose PM is a 'true travel bug' what less should we expect?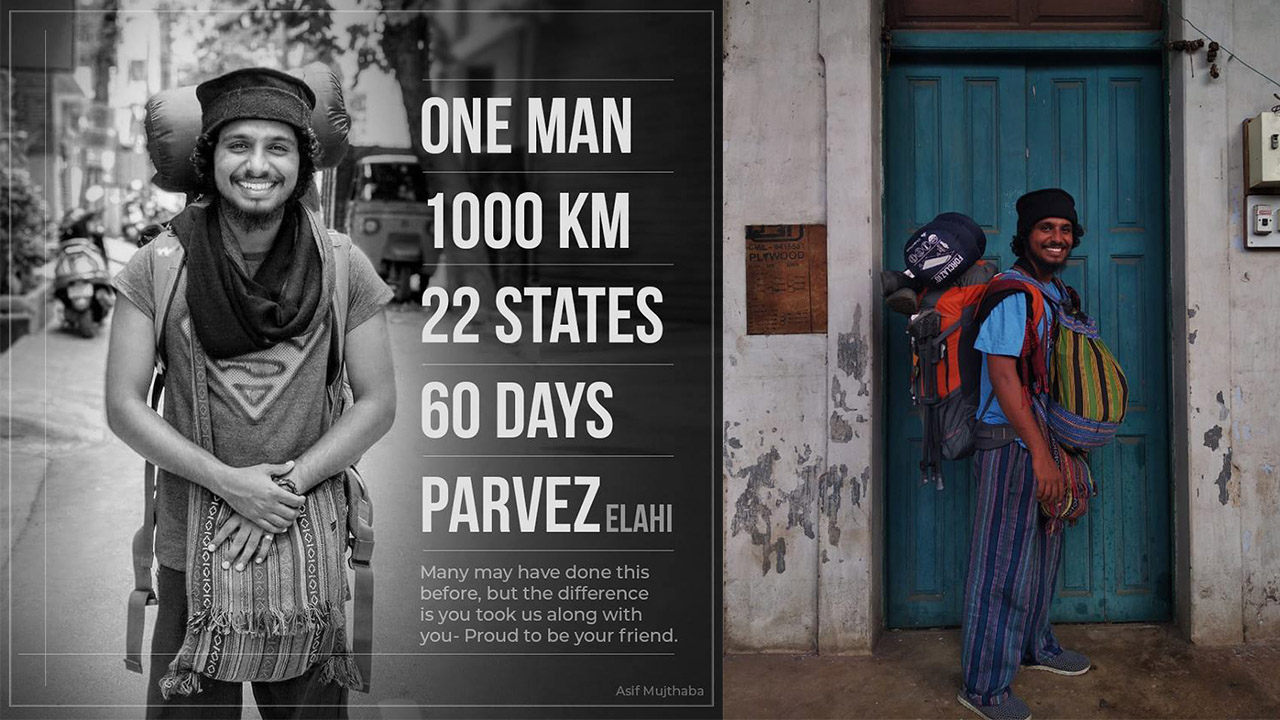 Parvez is from Thalassery, Kerala. His wish was to cover maximum possible places in India in his journey. Many might have done such journeys but what makes him different is that he took us all along with his trip. Most of the days he posted the details and pics of his journey on Facebook. He started his solo trip on July 10th from Kerala. Before the trip, he posted that its time to go -to see, understand and learn India. His plan was to explore India max on foot, bus, lorry, train and anything he gets on his way. He wished to meet certain personalities on his way whom he had mentioned in his post- Kuppu Amma in TN, Murukan from Pondy Bazar, Ravinder Singh from Punjab, Chandra Bose from Delhi, Meera Bai from Kolkatta and many others. He also invited everyone living in different cities on his way to meet and for a cup of tea and countless stories. He invited everyone to be a part of his journey- an open invitation.
Ravinder Singh is the man behind Parvez's journey. A man who appeared on his doorsteps a year back to taste Thalassery biriyani. To keep the word he gave to Ravinder a year back he went for this journey. Ravinder Singh is a real traveller who has travelled India covering 9000 kilometres on foot in 3 years.
Parvez reached Chennai first and explored places like Dhanushkodi- 24km on foot and Rameswaram- 16 km on foot. He shared stories of certain people he met there and their stories too. Later, he covered Odisha, Bhubaneswar, Puri, Konarka, Calcutta, Howrah and many dream cities. On his 10th day, he had already covered Kerala, Tamil Nadu, Andhra, Odisha, West Bengal and 124.3 km on foot. By that time he had lost almost 1.5 Kg too. Moving on his journey was to the Himalayas covering Siliguri, Darjeeling- a dream train journey of 88 km from Jalpaiguri to Darjeeling, covering Siliguri-242ft, Rongtong- 1683 ft, Tindharia-2822 ft, Gayabari-
3516 ft, Mahanadi- 4120 ft, Kurseong – 4864 ft, Sonada- 6552 ft, Ghoom- 7407 ft, Darjeeling- 7927 ft- Sikkhim, Gangtok and Indo- China border, Assam, Delhi and then to Kashmir.
On day 33, he conquered Khardung La on foot in a 9 hrs journey. It's such a dangerous and adventurous path to cover on foot. Khardung La is one of the highest motorable passes in the world. It is about 17,582 ft above the sea level. His post on this deadly travel to Khardung La is overwhelming and mind-boggling.
On day 38, he was in Himachal and that's when it was flooding in Kerala. He sat on the streets of Manali with a placard asking for help for the flood-affected Kerala. He collected 300 rupees in an hour. He did the same on the next day in Wagah Border. He says that many looked in amusement, some came and asked the details and donated something. He says that he was not ashamed to do that for his state. He walked 29 kilometres in Punjab with this board and asked for help. He was able to collect some money and essential items like sanitary napkins for the camps in Kerala
After covering Kashmir, Himachal, Punjab And Haryana, he moved to Rajasthan, Gujarat, Goa, Bangalore, Udupi and then back to Kerala. With this, this man has covered 22 states, 1000km in 60 days. He says adieu to the roads ahead, the people he met, the lives he saw, those who fed, those helped and all that he saw and learned during the journey.