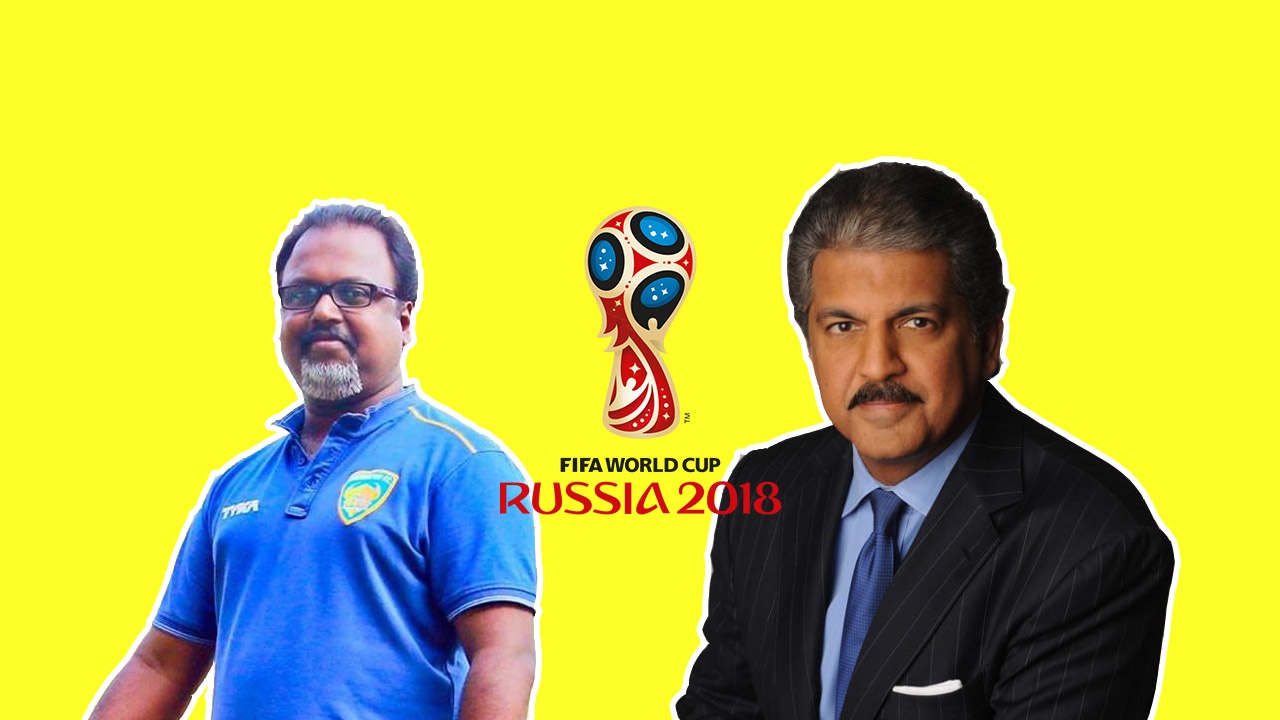 Anand Mahindra switches to Shaiju Damodaran's Malayalam commentary to watch the 2018 FIFA World Cup calling English and Hindi commentators "tame". In a tweet posted on Saturday, Mahindra said he would 'switch to a channel with Malayalam Commentary' for football matches even though he 'does not understand the language'.
Ok that's it. I'm switching to this channel with commentary in Malayalam. No, I don't understand the language but I don't need to—these guys are so pumped up they make the English & Hindi commentators sound tame! pic.twitter.com/yWqApVx6jp

— anand mahindra (@anandmahindra) June 16, 2018
Anand Mahindra, the Executive Chairman of Mahindra Group believes that the Malayalam commentators are so "pumped up" that they made 'English and Hindi commentators sound tame'. He also shared a short video with Malayalam commentary of Cristiano Ronaldo's third goal against Spain on Friday.
Cristiano Ronaldo's third (hat-trick) goal against Spain in #FIFAworldcup2018 with Malayalam commentary. ENJOY! pic.twitter.com/JvUYXVLaqO

— Mohandas Menon (@mohanstatsman) June 16, 2018
2018 FIFA matches live is available in 4 languages, English, Hindi, Bengali and Malayalam. It's the first in history that the World Cup commentary is coming in Malayalam. Sony Ten 2 is airing world cup football matches with English commentary, Hindi feed is for sony Ten 3. Sony ESPN is having Bengali and Malayalam commentary. ISL fame Shaiju Damodaran is doing the FIFA Worldcup Malayalam commentary. That video clip of Shaiju Damodaran, describing Cristiano Ronaldo's stunning free-kick against Spain, is going viral on social media.
Other than Anand Mahindra, many have tweeted about the video.
WhatsApp has alerted me to the presence of Malayalam commentary at the World Cup…

I. Am. Sold. pic.twitter.com/U50L5BzBkH

— Sahil Rizwan (@SahilRiz) June 16, 2018
How do I get to see #WorldCup with Malayalam commentary. Seriously. That #Ronaldo goal 3 commentary was simply magical. Naan thirimbi vandhutaenu sollu. That's Rajini in the commentary box.

— Harish Rao (@simpleharish) June 16, 2018
Meet the Peter Drury version of Malayalam commentary. 😂😂😂😂😂😂😂😂😂 #WorldCuppic.twitter.com/5HDwWcBdns

— Ziyaad (@ZIYAAD_LFC) June 17, 2018
Just like you don't need to know the language to enjoy the music, same applies to sports as well.. Malayalam commentary from #Por vs #ESP.. Spanish commentators also go crazy when a goal is scored.. #FifaWorldCup2018 pic.twitter.com/Enx1kXWWwh

— Adithya (@aditalks) June 17, 2018
All ye people missing out on the Malayalam commentary of the FIFA world cup, I feel sorry for ye.#FifaWorldCup18

— Arjun Sajeevan (@sajee_arjun) June 16, 2018
I almost died out of blood pressure!
Malayalam commentary outplaying the Spanish/Arabic 😂 #WorldCup #FifaWorldCup2018 https://t.co/a6JMmD3TOz

— Vivek Kv (@chotabheem07) June 17, 2018