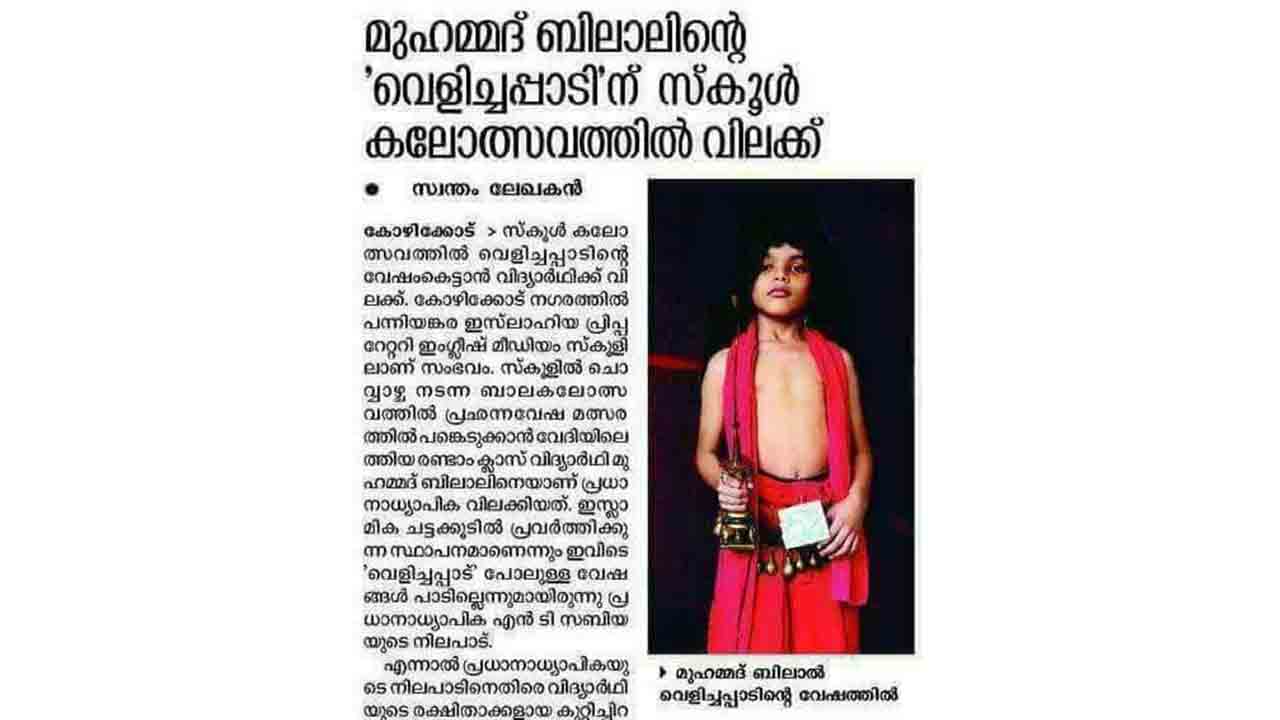 Islahiya Preparatory English Medium School in Panniyankara, Kozhikode bans the student Muhammad Bilal from participating in Fancy dress competition held as part of Balakalolsavam. As part of School Arts Festival Muhammad had dressed up as a 'Velichapaadu'. But the school's Principal N.T. Sabiya did not permit the second class student to participate in the event. She claimed that the school strictly follows Islamic teachings and she can't permit acts like that of 'Velichapaadu'.
The parents pleaded to let their child participate in the event. But the Principal remained adamant and retorted that other parents may not be fine with this kind of acts. So the parents made a complaint to Panniyankara police Station and the officials contacted the school authority. They asked the parents to go back to school, but by then the event got completed. Later the parents also complained to DDE office, Kozhikode.
Muhammad's parents had said that they did not select this dress considering religion or caste. They believe that art should not have caste, religion or sect. They also stated that last year Muhammad had bagged first prize for Fancy Dress competition in Balakalolsavam by dressing up as 'Kunjali Marakkar'.
The school Principal says that the school functions in the framework of Islamic beliefs and faiths. They never allow cinematic dance and related activities. She says that the parents are unnecessarily trying to defame the school and its functioning.
Rather than making a knee-jerk and predictably religious reaction to a mere fancy dress, the School authority could have stood up for principles like diversity, equality, and inclusion. Moving forward, I suggest they read up on the awesome power of art to shape hearts and minds, to educate students, to stand up for oppressed people, and to start revolutions.